Announcements & News
Current Cancellations DUE to Covid-19
Current Cancellations Due to Covid-19...
Easter Egg Hunt - April 4

Action in Jackson Committee Meeting - April 15

Friends of JPR & Park & Rec Committee Meeting - April 15

Arbor Day Celebration - April 24

Pickleball Tournament - April 25

Kid's Fish Derby - May 2

Jackson Village Rummage Sale - May 16

Action in Jackson - June 12 & 13

Jackson Beer Garden - June 17-20
Please continue to watch our website and Facebook for updates on events.
Village of Jackson and JCC COVID Update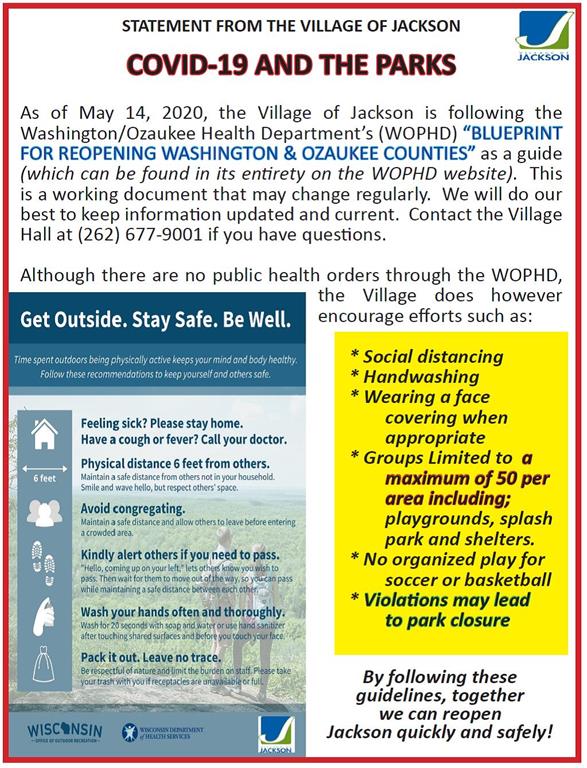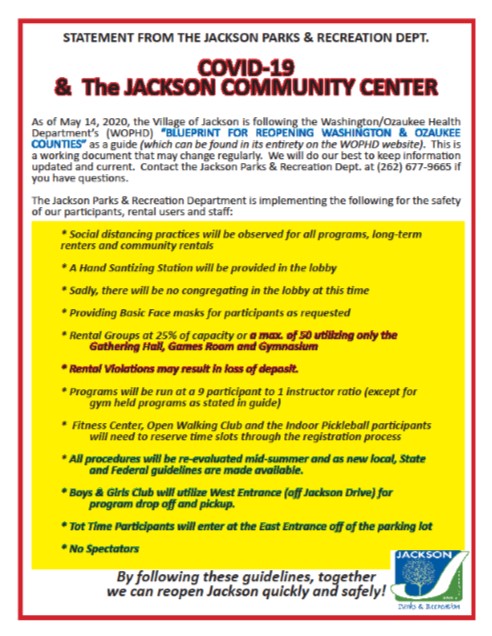 JACC Fitness Orientation
Check out our Fitness Orientation for the Fitness Center at the Jackson Area Community Center!
Call the Community Center today for more information on our Fitness Center memberships (262) 677-9665 or email us at parkrec@villageofjackson.com. Thank you to Brenda Mundt, CPT (owner of Fit4You LLC) for continuing to be the certified personal trainer at the Jackson Community Center and making this great video for us! Ask about doing a live a fitness orientation with Brenda or even one-on-one personal training session.
Welcome Back June 1st
Monday June 1st we will welcome back our members! The Jackson Area Community Center will be open daily from 6:30am to 5pm but you will need appointments for the fitness center and pickleball or need to be registered for a class.
**To make your Fitness Center Appointment please go to this link
https://www.signupgenius.com/go/805054DAEA72AA0FC1-fitness
for the sign up genius for fitness center appointments. Please members only sign up for one hour per day to allow all our members a time slot. We can allow 4 members in the center every hour.
**To make your appointment to play pickleball call Renee Fisher at 262.677.9665 x104. Reservations to play must be made must be made 24 hours in advance of the day you would like to reserve your time slot. (Example: For Monday Morning reservations, reservation must be made by 3pm Friday.) Court assignments will only be confirmed by talking to Renee. Voicemails, Emails and Text Messages will not confirm your appointment. There will be 3 pickleball courts with six players assigned to each court. These six players will play on the court they were assigned for the entire time of their reservation
Also, REGISTRATION for all of our Summer programs opens TODAY 5/27!! Registrations will close one week prior to the start date of the class. Please make sure to register early! Check out our website at https://jacksonparkrec.recdesk.com/Community/Program to register. Can't wait to see everyone on Monday! :)
2020 Events Calendar