Announcements & News
2021 Easter Egg Hunt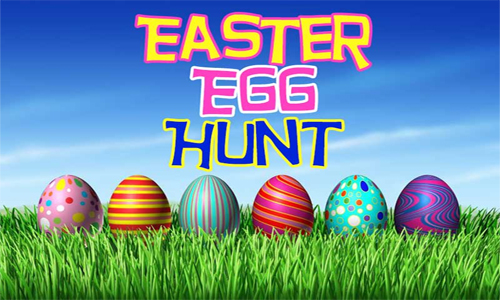 REVISED 2021 Jackson Easter Egg Hunt – DUE TO COVID, you MUST pre-register.
​Please join us Saturday, March 27, 2021 for the Jackson Annual Easter Egg Hunt with a COVID friendly format for ages 3-10. Find registration information on our website at https://jacksonparkrec.recdesk.com/Community/Program/Detail?programId=2377. After you have pre-registered, your family will receive a top-secret location and time by noon on Friday, March 26 for the Saturday Hunt. If you have not received your location by 1pm on Friday, you should call the community center at 262.677.9665 to confirm your time and location. When you arrive on Saturday at your assigned location and time you will check-in, receive your wristband, and hunt within your smaller groups, while being aware of your social distance from others. Masks will be required of everyone over the age of 5. The hunt will be limited to the first 200 children ONLY. Please DO NOT share your top-secret information, those not registered will NOT be allowed to hunt. We are doing our best to be socially responsible during the pandemic while still holding this free family fun activity. Thank you for your cooperation and to the Jackson Pet Hospital for continuing to sponsor this event! We hope to see you there!
New Guide Coming Soon
New Guide coming late April!
Please call or email with any current program questions. 262.677.9665 parkrec@villageofjackson.com
Current Cancellations DUE to Covid-19
Current Cancellations Due to Covid-19...
Kid's Rummage and Cookies with Santa - December 5, 2020

Monte Carlo Night - February 6, 2021
Please continue to watch our website and Facebook for updates on events.
Village of Jackson Welcome and Service Directory
The following pages of this document includes information regarding services available to you as a Village resident. For instance, there is plenty to learn about the Jackson Area Community Center (JACC), first responder services from the Jackson Police and Jackson Fire Departments, election information, waste and recycling hauler information, and a litany of other important topics. Please be certain to look through this material as well as view our published information on the Village of Jackson website at www.villageofjackson.com.
Jackson Parks & Recreation Department Community Assessment Survey
Village of Jackson and JCC COVID Update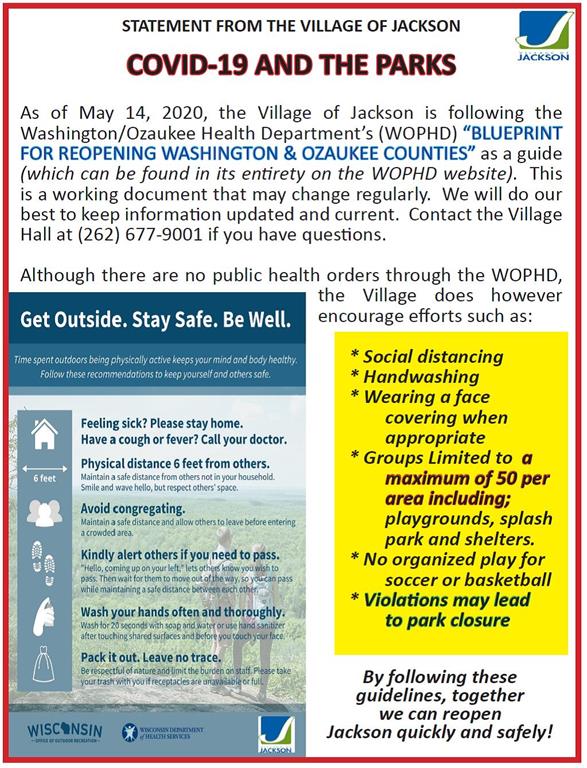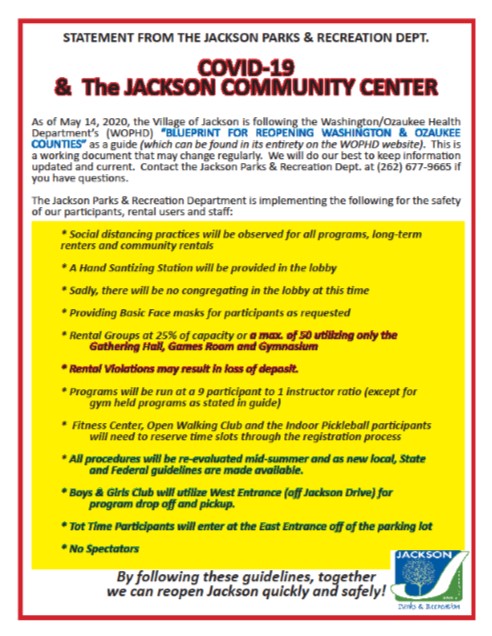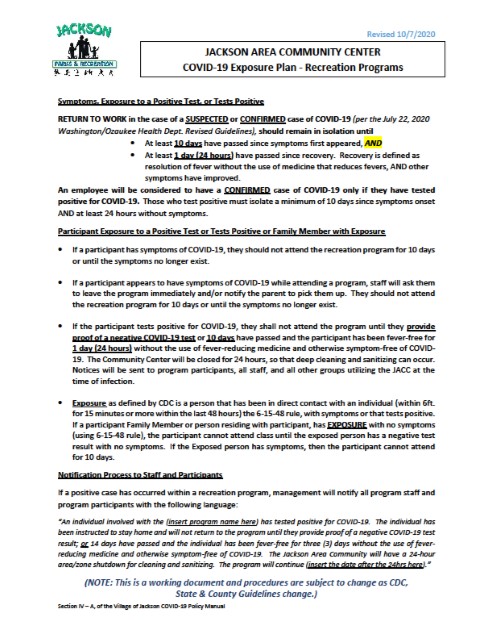 JACC Fitness Orientation
Check out our Fitness Orientation for the Fitness Center at the Jackson Area Community Center!
https://youtu.be/QsX1CWafkDA <-- View the orientation for the HD-3000 Dual Pulley Functional Trainer machine in the JACC Fitness Center!
Call the Community Center today for more information on our Fitness Center memberships (262) 677-9665 or email us at parkrec@villageofjackson.com. Thank you to Brenda Mundt, CPT (owner of Fit4You LLC) for continuing to be the certified personal trainer at the Jackson Community Center and making this great video for us! Ask about doing a live a fitness orientation with Brenda or even one-on-one personal training session.
2021 Village of Jackson Parks, Recreation & Open Space Plan
View the final version of the 2021 Village of Jackson Parks, Recreation & Open Space Plan here...